What is an AstroPay Card?
 Astropay is one of the most popular virtual prepaid cards for deposit and withdrawals. It is accepted at thousands of websites around the world. Also, the traders can manage Astropay cards from their mobile phones and get quick access whenever they need it.
This card is available in several different currencies like USD, EUR, GBP, RMB, JPY, TRY, ARS, THB, INR
To use Astropay at any time, we will list all the countries in which this card is available:
Argentina, Bangladesh, Brazil, Colombia, India, Indonesia, Malaysia, Mexico, Nigeria, Pakistan, Peru, Philippines, Saudi Arabia, Singapore, South Africa, South Korea, Sri Lanka, Thailand, UAE, Vietnam.
Uncertainty is what has shaped the feelings of all investors in the last month. It is difficult to predict the trend, so we want to present every trader with something new and exciting.
Now is the time for all stock traders to start trading on CFDs on stocks. IQ option has been added to the menu of trading assets as much as 50 new CFDs on stocks. Also, traders can benefit from new x20 multiplier too.
Below we bring more details about it!
Adding ×20 Multiplier for Stock CFDs
The new multiplier is indeed much larger and allows all stock traders to take advantage of the volatile stock market prices by applying high-risk returns to trading.
In other words, traders can invest much less money and win as if they invested much more. To be precise, even 20 times more! Let's assume that we have a trader who wants to spend $100. After using the x20 multiplier, this investment is now worth up to $2000.
However, what is really important to note is that even if the traders have the wrong prediction of the market, the loss will never be more from the starting investment (in this case $100). This is worthwhile for traders as they can trade and risk more with this multiplier than they could without it.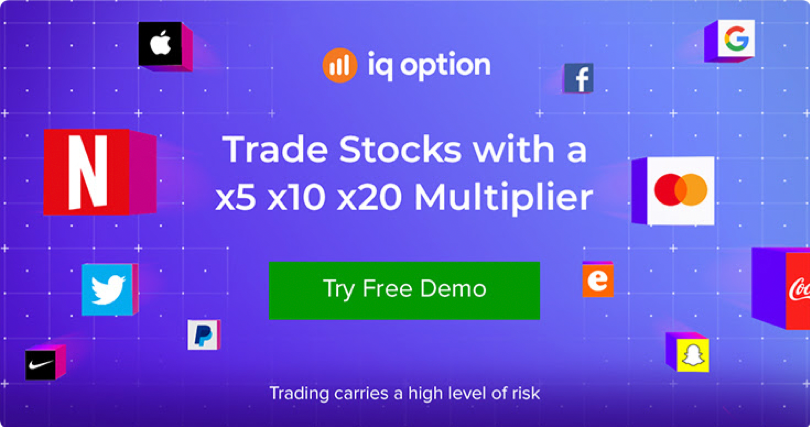 IQ Option Offering 50 New CFDs Stocks for Trading
 All the traders can now trade with more than 150 stock CFDs. We must note that the IQoption adds up to 50 new assets to their offer, so this number is now on high 168.