Binary options are often considered to be among the most technically advanced types of financial trading. That is not surprising, as binary options are extremely dynamic – just one second, and trader may miss the opportunity to place a trade, especially when it comes to short-term options.
Still, many traders don't understand the technical aspect of binary options trading. Yes, all brokers have their websites, but often, the platform where the trade is being placed or market analyzed is provided by another source. There are special platform providers who create trading platforms for brokers. Sometimes brokers decide to develop their own platforms and design them according to the profile of their trader. To an inexperienced eye, all platforms may look the same, but every has its own features that make it special.
In this article we will introduce readers to top platforms for binary option trading.
SpotOption Platform for Binary Option Trading
SpotOption is considered to be a market leader when it comes to platforms for binary options trading. Established in 2010, SpotOption today provides its services to over 250 brands and helps execute 500,000 trades a day. SpotOption takes great pride in providing platform to some of the most respectable brokers on the market. Broker that operate on this platform are:
SpotOption managed to set new standards for binary trading industry. This platform is quick, reliable and constantly upgraded to provide better trading experience. But, one of the main reasons why traders love this platform is that it's really easy to use and provides good overview over trading process. Brokers love it because it provides endless possibilities for customization according to brand, as well as mobile version.
Features and Tools
Modern trader is no longer happy with mere trading, and SpotOption understands that. For this reason, they created many additional features and tools that provide even better trading experience as they enable traders to approach binary options in completely different way.
SpotOption platform provider has a great selection of additional tools in their portfolio.
Option Builder – this function enables traders to create their own option. For example, they can choose asset, expiry time, and risk level in order to trade the way they want it. Such personalized trades are becoming more and more popular.
RollOver & DoubleUp – those are the two features for maximizing profit. Rollover enables trader to delay expiry time, and DoubleUp helps them recreate the same option in other conditions.
Sell – this feature is great when trader realizes he is going to lose. This way he can get the part of the investment back.
SpotFollow (iFollow) – feature that provides social trading and copying trades from more experienced traders.
TradeOn – a feature that provides trading on weekends as well.
Besides these tools, SpotOption platform supports many popular option types like ladders, one touch, 60 seconds and pairs.
TechFinancials Platform for Binary Options Trading
TechFinancials was established in the very beginning of binary options industry – in 2009, which makes it one of the oldest binary platform providers. Nowadays, many brokers prefer TechFinancials over other providers as they managed to provide great service continuously through the past years. Many years of experience give a great feeling of security to traders.
TechFinancials is one of the leaders on the market, and both traders and broker alike love this platform for its most accurate and reliable pricing. It is not odd that people enter the binary industry in order to make some extra money, so proper pricing is considered to be among top concerns of many traders. TechFinancials created a platform that can be counted on, and it executes around 100,000 trades every day.
Features & Tools
In order to help traders make most of their investments, TechFinancials developed a number of tools that can be used in order to maximize the profit. One of the main reasons traders love TechFinancials is that it has a large graph integrated into the platform so that traders can follow market movements without much fuss.
Binary options that are offered by this provider are ladders, high/low, touch/no touch, and boundary. It provides a great mobile app for smartphones as well. There are also fixed price options, that provide a completely new way of trading.
Traders who want to trade forex as well will be happy to know that TechFinancials unifies both types of trading on one platform.
Tradologic Platform for Binary Options Trading
Tradologic is a platform provider established in 2008. It is based in Bulgaria but has branches in UK, Cyprus, Israel, Russia, Shanghai, Hong Kong, Singapore, Philippines, and Japan. It employs over 200 people and is always updating its portfolio to provide safe trading experience.
Broker love Tradologic as it enables complete customization of the trading interface so it suits the brand, and traders love it for many useful tools and features. The trading platform is lightweight and web-based, but besides web platform, there is also a mobile version that is becoming increasingly popular among traders.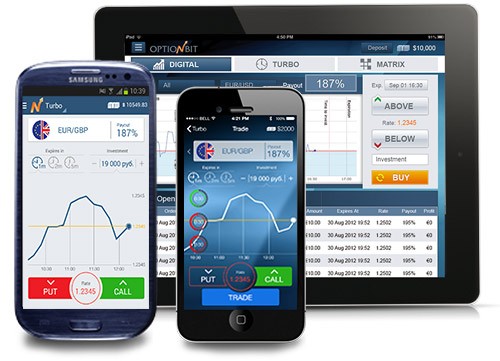 Features & Tools
How to make trading even better and more successful? Tradologic knows that answer is in tools and features that must accompany basic trading on the platforms. When it comes to options, Traders can place trades as high/low, one touch/no touch, range, binary 100, touch up/touch down, turbo, multix, matrix. Some of these options are not available on other platforms and are proof of Tradologic's innovational spirit.
When it comes to tools, there is plenty of them.
Close – closing option before expiration.
Extend – extends the trading time
Double – increasing the investment and possible profit.
Insurance – special policy that covers unsuccessful trades.
Re-Strike – enables changing the strike rate on an open position.
Auto-trading – automated type of trading that trades options in a row.
Knock-In – pending order that begins to function as a normal option only once a certain price level is reached before expiration.
Leverage – users trade binary options on margin in order to increase the potential payout.
Trade 24/7 – enables trading during the entire week.
Tradologic also provides various tournaments and challenges, signals and advanced charts, as well as widgets that provide trader great overview over their statistics and trading.
TradeSmarter Platform for Binary Options Trading
TradeSmarter was founded in 2008. They managed to find a new approach to online trading and were first platform provider that offers service of help with registration. Nowadays, both brokers and traders are aware of importance of registration, but back in 2009, the situation was quite different.
TradeSmarter platform provides a complete solution for binary trading. It offers various expiry times, many assets, advanced options, exotic options, various indicators and bonus management.
Features and Tools
TradeSmarter developed a great number of interesting features that can help traders to enjoy binary trading even more. The platform provides advanced chart analysis that is necessary for responsible trading. It offers social trading as well, a new trend in binary options that allows traders to copy trades of more experienced traders.
In addition to that, there are also other tools and features.
Quick search – locating assets or related assets.
Custom Dashboard – enables traders to make list of their favorite assets.
Sentiment Indicator – shows current call/put ratio for every asset
Sell Back – selling an option that doesn't seem profitable for the trader
DoubleUp – increasing the investment on selected option.
Social Radar – enables traders to follow and copy cussessful traders.
Panda Platform for Binary Options Trading
Panda TS was founded in 2007, with a goal to provide advanced solutions for online trading. They provide a great selection of trading tools and web technologies that are 'must-haves' for modern traders. Panda is oriented on creating a great trading environment for both traders and brokers. Traders will benefit mostly from their iPhone platform and desktop trading interface while brokers can enjoy even more benefits.
The desktop platform is based on Adobe Flash Player software and doesn't require any downloads or additional plug-ins.
Features & Tools
Brokers with Panda platform provide all the usual assets: commodities, currencies, indices and stocks. Traders can also choose between all most popular expiry times, and trade popular options types like: High/Low, Touch and Range Options. There are also Hyper options available, that are basically 60 seconds options, also known as Turbo options.
Besides that, traders can also use all operating systems like Linux, Windows and Macintosh and even use the Follow feature.
Follow feature is used for social trading, and following the most successful traders in order to copy their trades. Users can set their preferences like who they want to follow, for how long, how much do they want to invest in every trader and maximum investment amount.
HelloMarkets Platform for Binary Options Trading
HelloMarkets is platform provider based in Cyprus, EU, with offices in Hong Kong and London. They not only provide the platforms for various types of online trading, including the binary options but also offer support for the regulating process. At this moment, they cooperate with 110 brokers from various industries of online trading.
It is interesting that company started as a binary brokerage company, but soon took another direction, rebranded itself and became a platform provider. The experience in binary trading surely helps them to understand the needs of both brokers and traders.
Features & Tools
HelloMarkets enables trading on all popular devices: personal computers, tablets, and smartphones. The platform is equipped with various risk management tools and many trading options that make the entire process of trading more fun, but also user-friendly.
Traders can trade High/Low, One Touch, and Turbo Options. Hello Markets also created consecutive Bet trading, where trader places a number of trades in certain time frame. As the trades are placed, the payout amount is being adjusted until the time has expired.
Besides that, there are also tools and features listed below.
Social trading – for following the trades of the most successful traders
Option Builder – enables traders to create their own trades
Signals – instructions on what trade should be placed in certain moment
Automated trading – for 24/7 automated trading experience
The platform is extensively working on providing more security for both traders and brokers when it comes to depositing and withdrawing money. The company developed Security token that prevents hackers and previous employees from entering the private data stored on the servers.
Leverate Platform for Binary Options Trading
One of the popular platforms among brokers is also Leverate. Leverate received many awards and is considered to be among the new players who are taking binary market by the swept. They have offices in Limassol, Tel Aviv, Berlin, Hong Kong, Kiev, and Shanghai.
Their Bx8 platform is often considered to be one of the most technically advanced and reliable platforms in the entire binary industry. Leverate put great effort to create a trading platform that provides good overview in every moment, but is also safe and reliable for traders.
Features & Tools
Like all other platform providers, Leverate also offers a number of options to be traded, but their number is not as high as with some other platform provider. There are High/Low, 60 seconds and OneClick options. OneClick are options that can be placed fast, with just a single click.
There is also a feature that enables traders to close the trade earlier, which is a great risk management tool. Leverate also has demo accounts available but is up to broker whether they'll include them or not.
OSystems Platform for Binary Options Trading
OSystems is a binary trading platform provider that claims to have a completely different approach towards trading. They take great pride in their team of experts, but also in constant support of fresh and innovative ideas that can improve the binary trading experience. O-Systems state that they provide better value and complete satisfaction for all traders. One of the brokers that uses OSystems platform is MarketsKing.
OSystems platform is administrated by professionals and regularly updated in order to provide the most for both brokers and traders. There are many tools, features, and additions that will improve the binary trading process.
Tools and Features
OSystems joined the binary trading fever a little bit later, which means that they had the opportunity to learn from their competition. This resulted in the amazing platform with plentiful of useful tools that can be used for both trading and analysis.
The useful features and tools are as follows
Social Trading – enables traders to follow the most successful colleagues and copy their trades
Buy More Time – extends the expiration time for 10, 20 or 30 minutes
Limit Order –  allows trader to "order" trades or open positions automatically when the price level of the selected asset reaches the required price
Smart Feed – provides the latest prices in a precise manner in real time
The bad side of OSystems is the fact that they don't provide many binary options types, and are limited to high-low trading combined with various expiry times.
OSystems recently created O-Freemium, a new type of platform that is providing free services for all traders, and extra features for paying traders, with a focus on further automatization. Customers who enter the broker's landing page are directed to open real trading accounts with free $35 waiting for them. This motivates the trader to strat trading as soon as possible and trade with success, as there are notifications that direct them towards the right assets according to the latest news. Also, there are notifications about additional tools and features that require payment.
BinaryStation Platform for Binary Options Trading
BinaryStation is binary trading platform launched in 2014, that takes quite an innovative approach in binary trading. They claim to have an innovative and unique approach towards business modeling and platform developing. They also introduced some additional benefits that can be very beneficial for binary brokers, like no revenue sharing and one-time fee that enables brokers to modify and host their platform as they wish.
What is interesting is that BinaryStation is US based company in the ownership of Binaryware LLC. However, the fact that it is based in the US is mentioned only on the homepage, and no additional information on that subject can be found.
Features & Tools
In order to attract as many traders as possible, BinaryStation created an interesting trading interface that is very similar to that of SpotOption. It provides a good overview of trades and market conditions. This platform is multilingual, which helps brokers and traders from different markets.
BinaryStation offers:
Diverse range of trading instruments
Call/put, range, touch options
Option builder for options customization
Support of different time zones
Supports both binary and Forex trading
Demo account for traders
Mobile version available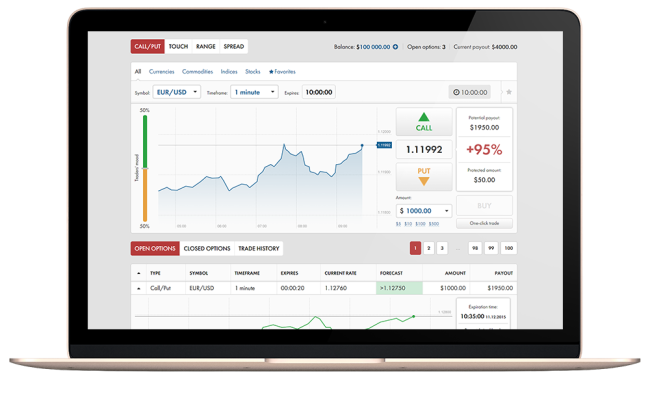 BinaryStation can be completely standalone or integrated with other trading platforms which are unique on the market. It is completely web-based and requires no download that may slow down your device (laptop, personal computer, tablet or smartphone). Of course, brokers can select which features they want to support and integrate for their traders.
Hirose Lion Binary – Pro Platform for Binary Options Trading
Lion Binary – Pro is a completely new trading platform by a company called Hirose. As t is fairly new on the market (it was revealed in April 2016). Hirose claims that the entire platform was created based on the users' feedback, so it should be easy to operate and use, even for beginners.
As it is a fairly new trading solution, it can be expected that it will take some time for it to be established in the binary market.
Features & Tools
Lion Binary – Pro platform is equipped with many interesting features that will make trading more interesting. For example, traders can use three types of charts like candles, line, and heikin that is the most popular chart type in Japan at the moment.
There are also 6 trading tools waiting to be used:
Simple moving average
Ichimoku
Bollinger Bands
RSI
Stochastic Oscillator
MACD
All tools are compatible and easy to use no matter what chart type trader displays. This makes technical analysis even easier than before. Traders can also take advantage of 'early close' option and close the trade as they like it, but also display the interface in pop-up form and filter the assets and trades as they like.
TraderSoft Platform for Binary Options Trading
TraderSoft is an interesting trading platform created for financial services, including binary options. It was established in 2013, and ever since provides interesting trading solutions, but also software support, data management, and business intelligence.
TraderSoft takes great pride in their user-oriented approach that offers intuitive trading solutions and tools.  One of the brokers that is using this platform is BinaryBrokerz.
Features and Tools
TraderSoft created an interesting portfolio full of useful and interesting tools for both traders and brokers. As FBO is user-oriented website, we decided to list only tools and features that traders might find useful.
Some of the features available with this platform are:
Web and mobile trading
400 trading assets
High/low, quick options, range and one touch options
Fast and precise execution
Professional charts
Economic calendar
Price alerts
Social trading
It is important to accentuate that some of these features may not be available with all brokers using TraderSoft platform. It is really up to the broker which tools and features they want to offer in their portfolio.
Proprietary Platforms
With all those amazing platforms available on the market, one must wonder why there are still brokers who prefer proprietary platforms. The answer is simple: no matter how many adjustments can be made by the platform provider, the only way to a really have unique platform that suits your needs is to develop one by yourself. It takes much more effort to create something from scratch, but broker with proprietary platforms are completely independent.
FBO selected two brokers with amazing proprietary platforms that can compete with other platforms any time of day.
iqoption Platform for Binary Options Trading
iqoption is a popular binary broker thanks to their low deposit requirements and trades that start at $1. This broker created a great reputation in very short time, partially thanks to their proprietary platform that is regularly updated. The last improvements were published in December 2015, which made this broker even more competitive.
The platform is really easy to use and it even has a demo version for traders who never traded binary options before, or who are just getting to know the broker. Both demo and real platform are equipped with many tools that can help traders make the right decision. MA, Bollinger bands, Alligator, RSI, MACD, Parabolic SAR, Stochastic and Awesome oscillator are all integrated.
All tools for successful analysis are placed on the left side of trading platform. Traders can select the chart type, and play with many technical indicators in order to achieve the best results. Demo account with $100 of virtual money, is a great way to test all the strategies before making a real investment. The platform is available in mobile version, as well.
More on trading with iqoption
StockPair Platform for Binary Options Trading (Closed 2017)
StockPair is a broker regulated by CySEC that has received many awards in the past, including the FBO awards for best banking and best support. Their proprietary is getting better with every update, as this broker always has an innovative approach to binary trading. They created their own Kiko options in which traders can predict which target, the upper or lower, will the asset hit first.
That approach is also seen in their platform that provides a great overview over the trades placed and enables easy management of trading. Traders can choose among fixed and floating pairs, but also use many risk management tools to optimize their results.
The platform is completely web-based and doesn't require any download. StockPair team also developed apps for mobile trading to provide even better service to all traders. In addition to the trading platform, there are also many educational articles and videos available as well.
Is Good Platform Sign of a Good Broker?
All platforms listed above can be considered reliable, safe and technically advanced, but, are all brokers who run on those platforms reliable and safe as well?
Unfortunately, the answer is – no. Platform providers are in every day completely separated from brokers who use their services. The good platform provider is no guarantee of a good broker, just like a proprietary platform is not a sign of bad broker.
But, it is important to remember that good platform can tremendously improve the overall trading experience, especially when it comes to technical aspects of trading. No two traders are alike, so it is difficult to recommend one platform that suits all, as many other factors come into the binary equation. A great platform should be accompanied with a good broker and only then can trader place his trades without concerns for the safety of his funds and personal data.