What is Forex, CFDs or Binary Options Auto Robot Trading Software?
Forex robots, or forex auto trading software, as well as binary auto trading software and CFD trading software are all very similar in their technology but different when it comes to online retail trading instruments they use. Most modern auto robots are based on advanced algorithms that can easily track market changes and find trades with the highest potential. Forex robots code includes an algorithm that employs often a well known trading strategy to place trades automatically or by requiring confirmation from the trader.
How do Binary Options, CFDs and Forex Trading Robots Work?
Here, Fair Forex Brokers team will try to explain the way auto trading software works in the easiest way possible.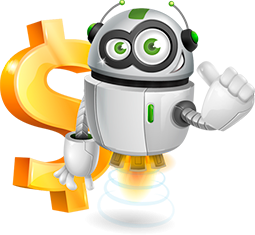 In most cases, traders trade with either a binary, forex or a crypto broker. They follow the market changes and try to find trading opportunities buy utilizing technical analysis and market indicators. Such approach requires great knowledge, not only on financial markets, but also on fundamental and technical analysis, which usually takes time to master.
Using an trading robot is a somewhat different approach. In this case, traders still trade with a broker (preferably a regulated one), but they use auto trading software to do the analysis and find trades for them. Binary options robot, forex robot or cryptocurrencies trading software does the analysis thanks to the sophisticated algorithm, and delivers the trade directly to the trader. Depending on the trading software, it can be placed manually or automatically.
Trade with Forex Robots in 3 Easy Steps
Step 1 – Register with a Forex Robot
Open a trading account with a forex broker of your choice. This is usually done by filling out an online form. As soon as you have a trading account, you will be connected to a broker. All your trades will be placed with the broker you made deposit with, but you never have to leave the robot's website depending on the Robot. The robot, no matter the asset type you are trading, is only a bridge between you and the broker that allows you to trade in a more convenient way.
Step 2 – Use Settings to Control Assets, Risk and Trading Strategies
Explore and use all tools and settings you have available with your auto trading robot. That way, you will personalize your trading signals and trades placed.
Step 3 – Activate Auto Trading or Trade Signals in the Software
Most robots nowadays have a special button that allows you to activate or deactivate automated trading. When you feel ready to trade, make sure to turn the auto trading button ON.
Binary options robot operates in the same way. Of curse, the individual trading experience may differ based on the quality of the product and features offered. Some binary options robots are only simple algorithms that can be turned on and off, while others offer great add-ons and customizations possibilities.

Are Crypto, Options and Forex Robots Profitable?
Traders should definitely be interested whether or not their binary options robot or forex robot is profitable. While there are many products that promise you to become rich in a single month – just see BinaryBoom promises of 17000 USD – an obvious lie, bear in mind that serious and reputable products never make such promises. The success rate is usually based on a complicated equation with several factors including the risk you are willing to take, the number of trades placed, so it is impossible to guarantee you an exact percentage. This is why we always prefer trading with robots that have many tools and features that can be used to customize the trading profile and the trades placed.
Binary options robot profitability is equally hard to determine – there are simply to many factors involved. However, traders should always use the trading robot that offers personalised trading and gives them a higher level of control. This way they can either turn off strategies or assets that drag the overall win rates lower. Also, risk settings will allow to get only the signals with lower potential payout, but also less risky.
Note: Robot results are not always verifiable and depend on many factors
Which Forex or Binary Options Robot Really Works?
The question every trader should ask themselves is not which forex robot really works, but which forex robot works for them? In order to find out the answer, we recommend reading all forex, binary, CFD and crypto robot reviews available on our website and doing some research yourself. Only so can one be sure that their decision is optimal.
Also, use forex robots that have a no deposit demo mode, so you can test drive the software.
Forex Robot Demo – The Best Way to Test the Software
While reading reviews traders will find out there are robots that offer a free demo and robots that don't. Forex robot demo, or any other type of demo whether it is binary options, crypto or CFD robot we are talking about, allows the trader to get a first-hand experience on what trading with a certain robot actually looks like. Demo accounts usually come with a certain amount of virtual money. With this money, you can't make real money (as it is virtual), but you can use it to trade on the platform and avoid rookie mistakes that can cost you real money in the future.
Traders should always prefer forex robots that have a free demo, as they make the entire trading process more transparent. You will know what awaits you, once you deposit with the broker available on the trading interface.
What is the Best Auto Trading Robot on the Market?
A new forex robots, binary options robots and crypto trading software pops up every day. It is understandable that traders often feel challenged to find the one that really is the best forex robot or best binary options robot. There is no unique brand that can be considered the ultimate solution for all traders, as we all have different goals and trade in different ways.
Still, here are some characteristics of the best forex trading robots:
Free demo account

Regulated brokers available

Multiple account types

Variety of settings, tools and assets

No download required

Mobile trading supported
Sometimes, traders will be able to find auto trading software that supports all these characteristics, and sometimes they will find only some of them. It is important to read reviews, like those available on our website, to get a better picture on the overall image of a certain forex or binary options robot, instead of focusing exclusively on a single characteristic.
Are Forex Robots Scams?
Traders must be aware that the quality of CFDs, binary and forex robots may vary depending on the brand. Not all auto trading software or binary options robots are created equal and not every algorithm is equally complex or advanced. Some algorithms are simply more reliable than others. Also, the quality levels of customer support, brokers available and tools offered are not the same with different brands. We always strive to provide objective review and warn traders about unethical practices, but the best way to protect yourself from scams is to read reviews thoroughly and focus on facts rather than promises.
What are Forex EAs?
Different class of robots are MetaTrader Expert Advisors – EAs. They function on a bit different principle and require manual installation in the system. Their advantage is the fact that they can be tested on historical data, however, they are not easy to install for unexperienced users and can cost up to several thousands of Euros.
Forex Robot Comparison: MT4 Expert Advisor vs FXMasterBot
MT4 EA is also known as Metatrader4 expert advisors. It is a special type of auto trading software that can be added to the MT4 forex trading platform with the sole purpose of auto trading. There are many different types of MT4 expert advisors, but in this case, we will try to compare them with one of the most popular auto trading software that doesn't require any downloads – FXMasterBot.
MT4 expert advisor can be described as a plug-in that needs to be installed directly on the Metatrader platform. Considering that Metatrader platforms already require download and installation, many traders feel challenged by so many technical maneuvers necessary for auto trading. On the other hand, forex robots that can be accessed directly from the browser are straightforward to use, and there is no technical knowledge necessary.
From that point of view, FXMasterBot is more user-friendly. All you need to know are your login credentials and you can easily trade from any device you have nearby that is connected to the internet. Also, good EA's cost money, and FXMasterBot is completely free. Thanks to free auto trading software, you can direct all your money towards trading, and in case whn you are using MT4 EA's you have to put an additional cost into trading equation.
While in the past, MT4 EA forex robots were considered to be the ones that offer highest customization possibilities with strategy parameters and other settings. FXMasterBot makes this entire decision-making process easier. And while there is no doubt that MetaTrader4 expert advisors have certain good sides, modern "prosumer" traders are more oriented towards simple solutions that have everything taken care of, such as FXMasterBot.
Overall MT4 EAs do have advantage that there are as many of them as there are people who believe they have cracked the formula to trade in the market. Many of them perform really good in set conditions, while others offer lower returns but better adjust to abrupt market changes. In this sense they have advantage that one does not rely on default few strategies, as with FXMasterBot which uses Bollinger Bands and few other indicators to create signals – there is a huge selection of approaches. EAs offer much more versatility, but also are more complicated to run for some people.
Binary Options and CFD Robots and Regulated Brokers
As previously mentioned, most modern forex, binary and crypto auto trading software offer a list of brokers you can use to make a deposit with. Bear in mind how auto trading software never accepts any deposits nor processes withdrawals, as that is done by the broker.
Regulated brokers give credibility to the auto trading robot and give traders an additional level of safety at the same time. We always support trading with regulated forex and binary brokers, as they oblige to demanding set of rules and have high standards when it comes to customer protection.
Forex Robots for iPhone and Android Phones
The needs of modern traders can no longer be fulfilled with desktop trading only. That is why more and more forex trading software offer mobile versions of their trading rooms or mobile apps that can be downloaded from their respective app stores.
Forex robots that are supported on iPhones and Android phones make trading possible no matter where you are and what you do. You can wait for a bus, a meeting, or sit on the beach and still get access to latest trades. This makes trading more dynamic and is not limiting you only to your desktop computer. Binary options robots are no longer supported in form of an app on iPhones, due to Apple's decision to remove them from the store.
Still, there are certain conditions that need to be fulfilled for successful mobile trading with auto trading software. For example, make sure to have enough space on your phone so that the app can work without any delays and interruptions. Also, make sure that your data plan supports enough traffic that is necessary for trading, or that you are connected to a reliable wi-fi network.
In the past, mobile versions were often the not most optimized trading solutions, and mobile apps usually were the best choice. Today, there is little to no difference, but again, use a free forex robot demo to make sure you like the way trades are placed on your mobile phone.
Bitcoin and Ethereum Auto Trading Software – Cryptocurrency Robot Trading
As it is already a well-known fact, cryptocurrencies are considered to be the next big thing in financial trading. Also, increased popularity of cryptos increased the demand for safe and reliable crypto trading software. And while it seems to be an impossible task to find a solid bitcoin auto trading robot, or ethereum auto trading software, traders can apply the same rule they do when choosing a forex trading broker.
They simply have to find a solid auto trading software that supports this type of trading with, preferably, regulated brokers who offer cryptocurrencies as underlying assets. Also, there are specialized robots that support crypto assets exclusively. This is a much better trading solution than using a robot that trades for you directly on the exchange. You will keep control over the entire trading process which is of crucial importance.
Crypto Auto Trading Software Benefits
Cryptocurrencies markets are extremely volatile. Sometimes it takes only a rumor, statement or a slight change in the regulatory framework to cause great drops in the crypto market. This puts traders in an unfavorable position – they can experience unexpected losses at any moment, and miss great trading opportunities at other.
Bitcoin auto trading systems and ethereum trading software can give traders a chance to take a break. Besides, they also serve as an additional tool for trading with their favorite regulated brokers. Cryptocurrency trading with best auto trading robots combines dynamic crypto trading with more reliable forex trading (as most forex brokers offer cryptocurrencies in their portfolio). Using a reliable crypto trading robot that requires no special downloads and installations and cooperates only with the best crypto brokers on the market can significantly improve your chances of reaching satisfying win rates.
Binary Options Auto Trading Software – Browser Plugins
The second type of auto trading software in binary options is the plugin. The idea here is to use the feature modern browsers support – extensions – in order to make a small program that will run as the auto trading overlay with the chosen broker trading platform. Usually, one gets a sidebar with some settings. While this seems very practical, in many cases these are the worst designs since many of them still work in a way that the software uses the position of the platform to write down signal data directly into the interface of the broker's trading platform.
This is a very clumsy solution and probably the worst type of binary auto trading software implementation. The installation can be easier than with the standalone software, however, this is not the rule. Sometimes plugin needs to be downloaded and installed just as the regular software. In any case, this solution is often less stable and secure since it depends on the browser and its performance.
Are Web Based 100% Automatic Auto Traders the Best Choice?
Without even touching the performance of binary options auto trading, we are arriving at the newest way to implement auto trading. The new approach respects the inherent web-based nature of binary options and keeps the main trait of binary options trading – online, no download, browser interface. The idea is to have all the necessary settings in the browser and turn auto trading on and off trough a simple click. Web-based solutions are becoming the most popular way to trade binary options since no installation is required.
Auto trading software run from the server controls the experience while broker trading platform is used to place trades.
Prices & Binary Option Robot Activation Key
A lot of customers are asking how much do these binary options auto trading solutions cost. There is no unique answer here. Some charge for their software, while others do not. Some require monthly subscriptions while others sell software licenses for major versions. Also, many offer a free version that does not include all the options the full version, which has to be paid has. In some cases, there are fewer controls, while in other cases not all brokers are available.
Paid software will usually require an activation key from the provider in order to get it to work. This is a protection against those who would download it without paying. This is also a reason why many customers think there is a crack or a keygen (activation key generator) for binary options robots. We are not aware that hackers have developed any cracks in order to get this software for free, but it is very likely the access would be blocked from broker's side.
Free auto binary trading software
If you prefer not to pay for the binary options robot software, there is no need to go around looking for keygens and cracks. There are perfectly good free auto binary trading services that all you need to do is sign up and set the account. Our favorite, as can be seen in the list below is the Binary Options Robot. It is free and has a web-based interface that does not require any downloads.
Binary options bot for Mac
Not all binary options auto trading solutions have a version that is available on the mac. Plugin solutions might work in some instances and not in others. The surest way to get a web based solution as the aforementioned Binary Options Robot. This way traders can be sure it will work on every platform, without installation.
Binary options robot – scam or not
Binary options robot sector is versatile and it is hard to say that every service is a good one. Some may not be that bad, but they use spammy tactics that make us distrust them. Some are total scam preying on customers with their "make money fast" schemes. Trust us, there is no such thing. Do not fall for that. It is also important that the binary options robot of your choice does not feature brokers that are a scam, or you could encounter problems with withdrawals. Take a look on our blacklist in order to know which brokers to avoid.

Auto-trading is future of binary options trading. Find out more about it in references below.