Leading binary options broker Deriv Review have recently introduced a new feature on their website; High-Frequency Volatility Indices (HF Volatility) that run on four times the frequency of their current Volatility Indices.
If this sounds like a mouthful to take in, don't let complicated terminology intimidate you. To break it down, this new feature generates two ticks per second, compared to their current volatility indices that generate one tick every two seconds, allowing members to trade at an alarming speed. This, in turn, increases your chances of making profit.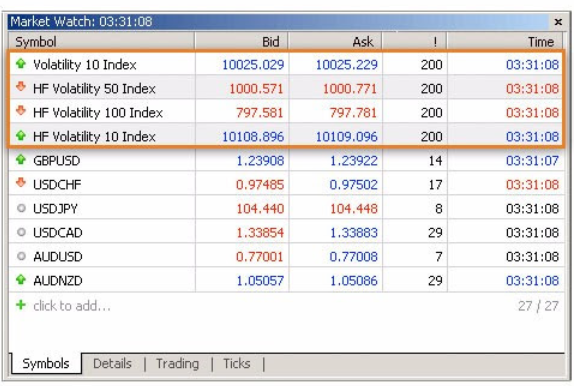 The HF Volatility Index varies by 10, 50 and 100 and all three are provided on Binary.com's MetaTrader 5 trading platform. If you don't have an MT5 account, it's extremely simple to sign up for one and witness superb multi-asset trading at its best.
How to Use HF Volatility Indices
Use Market Watch to locate all new HF Volatility assets in MetaTrader 5, click to add, and type the name of the asset class. Add each one into the Symbol list, and double-click to place an order.
How To Add Volatility Indices To MT5 Platform
For those traders on the search for some variety in the Volatility Indices markets, Binary.com also recently unveiled an additional index: the unique volatility 10 Index that retains 10% of the volatility of simulated markets for both MT5 and binary options platforms. This innovative index can be traded on all types of contracts, including Up/down, touch/no touch as well as spreads, at any time of the day, 7 days a week.
If interested, you can purchase your first Volatility 10 contract now and enjoy a welcome variation in your everyday trading routine.
Where To Find Volatility 75 Index On MT5
Synthetic indices are simulated markets. Trading of these indices is possible 24 hours a day and 7 days a week. Synthetic indices are available on the Meta-trader 5 platform and as we know Binary.com is providing a platform for MT5. Binary.com rebranded itself and the new name of Binary.com is Deriv. The interface of this platform is more user-friendly compared to the previous one. Binary.com included all its platforms into its Deriv platform to make things simpler for users.
Users can log in to the Deriv platform using the login credentials of the Binary.com account and vice versa. Traders can log in to both platforms by using a single account. According to Binary.com, its main focus is on the new platform. Most traders will see Deriv branding and logos instead of Binary.com. Traders can open their accounts from the DMT5 tab for synthetic indices.
The volatility 75 index is known as VIX as well. Traders can measure the volatility of the S&P 500 index by the use of the VIX index. It is a measure of fear in the markets and also known as "Fear Gauge". More than 30 readings show that the market is in fear and less than 30 readings show that level of complacency in the market.
Higher values of volatility 75 index indicate higher fear in the market and lower values indicate a higher level of complacency in the market. Short-term hedging can be made possible by the use of volatility 75 index during the mess in the market. VIX is also a better tool for trading market volatility.
Trading of volatility 75 index is possible through many strategies, but the simple strategy is to keep an eye on the news. When things are out of control, buy the volatility 75 index and shorten it when volatility has higher levels than the historical standards. High volatility is for a short time and the possibilities are there that it will fall when volatility is higher.
How To Add VIX To MT5
Market volatility is essential for a trader's profitability. It is important to know how volatility has relevance to trading and how to trade volatility. Synthetic indices are simulated markets and volatility indices are the synthetic indices of Binary.com. To make real financial market behaviour happen, volatility indices are using randomly generated numbers. Computer programs are generating these numbers and there is no possibility of the broker's influence on the numbers nor can a broker forecast them.
Binary.com is offering 10, 25, 50, 75, and 100 index in the volatility indices. The rate of volatility is depicted by these index numbers in various indices markets. The Volatility 10 index is the least volatile index and the Volatility 100 indexes are highly volatile.
Having an account on Binary.com or Deriv makes it compulsory to trade the volatility 75 index. After opening a general account on Binary.com or Deriv, a trader will also need to have an account on the MT5 platform to trade volatility 75 index. The latest version of MT4 is MT5 and there is a possibility that MT4 will become obsolete after some time.
Volatility 75 index is one of the indices offered by Binary.com. You can trade in VIX 24 hours a day and 7 days a week. It is a double edge sword for those traders who try to trade VIX for the long period.
Volatility 75 index gains when there is global instability and this is revealed by other markets as well. For example, the yield curve. It is a worthy curve for the volatility 75 index traders, it proved its worth by rising short term yields, declining long term yields similarly and with a growing fear in the market. It is pursuing traders to invest in long-term returns instead of allocating assets in bond markets. The search for lower stocks and higher volatility 75 index inverted yield curve is used and market sell-offs are extra volatile in nature.
High-Frequency Volatility 100 Index MT5
Volatility is the measure of price variation in a specific period. Markets are more volatile when prices are changing fast in a short time. Traders who trade volatility do not have concerns about price variation, as we know that trading volatility is all about trading volatility as an instrument.
Options are a well-known way to trade volatility. The expected future volatility is very important in the valuation of the options. The highly anticipated future volatility options are more valued compared to the low expected future volatility options.
Volatility is essential for the financial market, big changes in the prices on daily, weekly, or monthly basis can bring volatility in the market. Without volatility, there is no possibility of profit potential in the markets. Although high risk and high returns in trading can be increased due to volatility, the condition is traders trade them well.
MT5 has four types of synthetic indices: range break indices, crash boom indices, the step-index, and volatility indices. Synthetic indices are part of a wider class of simulated markets and HF volatility indices are part of it. Some more kinds of synthetic indices on MT5 platforms are HF volatility 10, 25, 50, 75, and 100 indices.
The HF volatility 10 index is the least volatile compared to other indices, such as volatility of 25, 50, 75, and 100 indices. Many analysis tools for the HF volatility 10 index are provided by the MT5 platform. This index can be traded by a trader from a mobile phone app, desktop app, and through a web browser.
There is no demand for minimum deposits from the MT5 platform and trading can be done with a low size on the selected indices. It reduced the exposure of the trader and limited the risk. Demo accounts can be made by traders on the platform to practice trading and try out various ideas and strategies.
How To Add Volatility Index On MT5 Android
Binary.com is a popular broker for binary options trading, but only few traders know that they are providing volatility indices as well, and these indices are simulated markets. The latest version of MT4 is the MT5 platform and traders can add volatility indices to the MT5 platform.
After the release of any important news, volatility happens in the markets, certainly when expected values do not match with the actual ones. We know that volatility only attracts volatility traders to the market. Volatility measures the fluctuations in the series and fluctuation in the series means how much deviation from the mean point. Volatility indices only act as financial markets and they have no link with currencies, so NFP or interest rate change decisions cannot affect volatility indices.
Traders will need an MT5 account after registering with Binary.com or Deriv, which will enable the trader to trade volatility indices. Traders will have to note down their credentials for future logins. Once registered to the MT5 platform account, it is best to add volatility indices on Mt5 to your smartphone.
To add volatility indices on Android smartphones, an MT5 platform is required on the smartphone, so open the Google Play Store on the smartphone, search for MT5 platform applications in the store, install that application and use noted credentials to log in to the MT5 account. To add volatility indices, go to add to the MT5 platform's application, search for indices, add each of them to the symbol list, and start trading.
Get a free Deriv demo account today!