Leading binary options broker Binary.com have recently introduced a new feature on their website; High-Frequency Volatility Indices (HF Volatility) that run on four times the frequency of their current Volatility Indices.
If this sounds like a mouthful to take in, don't let complicated terminology intimidate you. To break it down, this new feature generates two ticks per second, compared to their current volatility indices that generate one tick every two seconds, allowing members to trade at an alarming speed. This, in turn, increases your chances of making profit.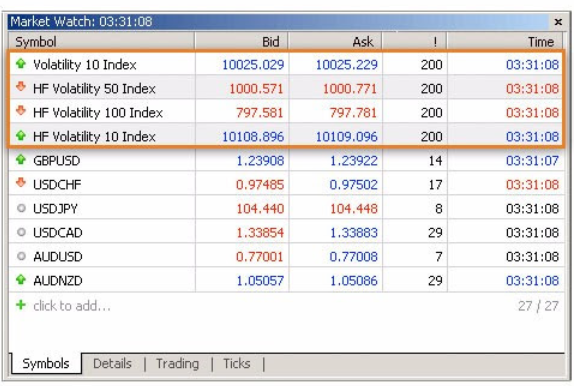 The HF Volatility Index varies by 10, 50 and 100 and all three are provided on Binary.com's MetaTrader 5 trading platform. If you don't have an MT5 account, it's extremely simple to sign up for one and witness superb multi-asset trading at its best.
How to Use HF Volatility Indices
Use Market Watch to locate all new HF Volatility assets in MetaTrader 5, click to add, and type the name of the asset class. Add each one into the Symbol list, and double-click to place an order.
New Volatility 10 Index
For those traders on the search for some variety in the Volatility Indices markets, Binary.com also recently unveiled an additional index: the unique volatility 10 Index that retains 10% of the volatility of simulated markets for both MT5 and binary options platforms. This innovative index can be traded on all types of contracts, including Up/down, touch/no touch as well as spreads, at any time of the day, 7 days a week.
If interested, you can purchase your first Volatility 10 contract now and enjoy a welcome variation in your everyday trading routine.