Many traders neglect the importance of all possibilities the modern trading platforms provide. Platforms are nowadays equipped with trading instruments, tools and features that can help traders increase their profit, but only if they know how to use them. Following the chart available in platform doesn't provide enough information for successful trading, as traders must know how to analyze it. That's when tools come into scene.
Some tools should be used directly on the chart, before even making a trade, during the process of analysis, while others are meant to be used during trading, in case something goes wrong, or trader simply recognizes there is the possibility to make most out of the good opportunity.
Here is the list of 5 most important tools that can help traders maximize their opportunities in binary options trading.
1. Candlesticks charts
There are many charts that are used for financial trading, and candlesticks are among most popular and most useful ones. Candlesticks were developed by Homma Munehisa, rice trader from Japan. Besides creating candlesticks technique, he was also among the first to recognize the importance of psychology in trading in his book "The Fountain of Gold – The Three Monkey Record of Money".
Every candlestick represents certain time frame (like one day), and their color represents the direction. White or green candlesticks are a sign that the price goes up while black or red color stands for downward direction.
Every candlestick has two parts – body and wick. The longer the wick, the bigger the chances that market will move in the opposite direction. This information can be used as a signal, but is better to confirm the information by using other tools as well. Candlesticks should be used as part of the analysis prior to the trade execution.
2. Support and resistance levels
No matter what type of chart trader is using, support and resistance levels are of crucial importance. Chart can be in shape of candlestick, lines etc., but there are two lines that can change the direction of entire process. Resistance and support lines should be seen as possible limits in market movements.
Resistance level or line is a line that is placed on the top of the chart. It shows the highest values over the selected time frame. This line basically resists the urge of the trend to break it. The support line is on the bottom of the chart and is calculated based on lowest price values. It supports the uptrend.
Here is an example. Trader wants to trade binary options on certain asset whose price maximum, in certain period of time never crossed $50. This means that $50 can be considered resistance level. After the price of the asset is getting closer to $50, there are bigger chances it will change the direction, and trader should invest in put options.
3. Rollover and DoubleUp
These two tools should be used after the purchase is made. Sometimes traders place reckless trades, but sometimes market takes an unexpected turn. Even though binary options are considered to be one of the safest types of financial trading, there is no 100% guarantee of success. Reason for this is that it can happen that events outside financial sector influence the market (war, natural disasters etc.).
In cases when things are going differently from the plan, there is still a chance to make a profit. Rollover allows a trader to extend the expiry time. This can be useful when a trader knows he made the right decision and that it takes just a bit more time to achieve profit.
DoubleUp is another useful tool that can be used to increase profit. It can be used in case when trader believes the adverse price is not here to stay, he chooses to double the investment, but also double the profit in case of success.
4. Call and Put Options
Brokers are really doing their best to provide full service to their traders. As the competition in the binary industry is getting bigger and bigger, brokers are forced to provide more and more useful tools. Such tools are sell and buy, but traders are sometimes intimidated by their strong names.
The logic behind these tools is easy and simple. A trader buys an option for $10, but the price movement takes an unexpected turn. The trader can use sell tool in order to gain part of the investment back. In the case the trade really ends the wrong way, the trader didn't lose entire sum, but only part of it, and still has, let's say $6 from the investment.
On the other side of the planet, there is a trader that believes that this is a valuable trade that will end up in profit. He buys it and continues to trade with it.
5. Binary Options Demo Account
Many lines of text are written about demo accounts. And while the demo account is not a tool per se, it can be considered one as nothing helps traders improve their trading as it does. Demo account is the best tool for learning binary options trading.
Demo accounts are equipped with same tools, assets and options types as a real trading platform. They help inexperienced traders to learn how to use various tools but experienced traders can profit from it as well. For example, they can test their strategies and analysis, and that way, optimize their trading results and achieve better profits. All this can be done by using virtual funds provided with the account. Those funds are not real profit but act as the real money on the demo account. Traders can multiply the funds, or lose them, depending on their skills, but the real money will stay intact. Such accounts are usually limited to a certain period of time, usually seven days. It is still a great opportunity for all binary options traders to become more successful in the trading process. After the demo trading has been experienced, trading on real money platform should be more successful and pleasant experience.
Risk Free Options Trading
There are many different strategies to trade binary options. This allows each investor to carry out an individual approach that suits them best.
Let us discuss a strategy that allows as risk-free trade as possible due to the fact that traders buy two options in Option+ mode at the same time in different directions, and then sell one option in order to benefit from each.
Please note – there is not such thing as risk free – all trading carries risk for your capital. With binary options your risk your investment, with leveraged products such as CFDs loss can be greater than the investment. In any case – your capital is always at risk.
For those who do not know: according to the standard binary options rules, traders can make a deal and leave as an option will expire in due time.
Traders buy one "call" option, and immediately after – "put" option.
Next, they follow the behavior of the market and capture the moment in which it becomes clear which way the price will go.
Once the situation is clear, they quickly sell the unprofitable. Typically, these losses equal 10-25%.
This feature, when a trader can sell an option before expiry time is called Early Closure.
Traders then wait for the second option in order to receive the largest possible amount, which not only covers 10-25% loss of the previous option but brings profit over. Ideally, of course, one must wait for the expiration and get the maximum profit. Incidentally, there is a chance to sell both options in profit – for example the price will go down sharply and trader sells a "put" option at a profit, and then the market will turn and run trading above the purchase – in this case, trader will also get a profit for the second "call" option.
Early Closure Binary Options
The strategy called Strangle is often used to trade options. This strategy allows simultaneous use of "call" and "put" options on the same asset base and the same expiration. The simultaneous purchase of "put" and "call" options with different strike prices can be quite lucrative, of course, as a subject of certain developments.
In most cases, Strangle buying depends on predictions about what will happen in the asset market.
Buying a Strangle means the opening a position for the "call" and "put" options with different strike prices. This strategy is used to generate income from the increase or decrease in the price of the underlying assets. The successful operation of the strategy is due to price release over a specific border corridor. In the event that the trader forecast was wrong, his loss will be only the amount of premiums paid for the options.
Straddle strategy is very similar to the strategy described above. The difference lies in the fact that at the time of its use, traders buy options with the same strike price. The price of a Straddle equals a few Strangle prices. This means that Strangle using is cheaper. However, bear in mind that the amount of profit from Strangle will be much less.
Effective Trading Strategy Pinocchio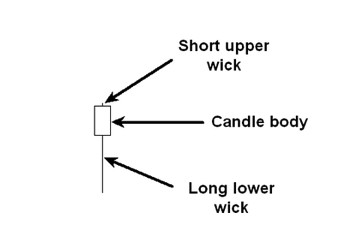 This strategy is easy to apply for quick money and is often recommended for beginners with no experience in financial market trading. In addition, this approach is effective in profits extracting and can be used not only for binary options trading but also for currency pairs with Forex CFDs. Also, considering the market of commodities and indexes, such a behavior of the graph is quite common, as it is possible to use this approach to trading for immediate benefit.
Let's take a look at necessary components, from which we obtain Pinocchio strategy:
Considering the candlestick chart, Pinocchio strategy will be composed of one or more candles.
The shadow of a candle shall be strongly marked, so there will be successful trade strong signal.
After identifying the long shadow of a candle, it is important to determine the asset is rising or falling.
So the question is how the trader can detect Pin-bar (the term Pin-bar is short for Pinocchio bar) or Pinocchio strategy? Let's try to explain with an example of candlesticks chart of EURUSD currency pair on the half-hour period. Pin-bar must always have a long thorn or the second name – a shadow, which is a nose of Pin-bar and it is directed against the trend. It is recommended to adopt pronounced Pin-bars for greater profitability and confidence. Another detail: the body of the Pin-bar should be as short as possible and you need to be sure to observe the direction of the price curve.
Buying or selling of an option should be carried out when the third candle goes up or down, blocking the body or the shadow of the pin bar. This is a hint or signal of a profitable trade.
Is Binary Options Gambling?
Binary options are not gambling simply because there are market patterns and trading strategies one can exploit in order to make a structured approach to trading. These are called chart patterns and are used all around the globe, not only by binary options traders and forex traders but also by investment banks' employees who run the trading desks. Also binary trading can use insights of fundamental analysis too. Gamblers on the other hand, rely primarily on the luck.
Chart analysis is a legitimate tool to analyse the market and predict future movements in prices. This does not mean that there is no risk and that any simple strategy will do. There is a lot of work each trader needs to do before she can become a true master of the market. On the other hand, gambling involves luck.
Casino games are nothing like trading binary options. Taking positions in the market vs betting on a roulette is not the same. In casino games, you get a return based on the probability of an event and it is always at a disadvantage to the player/trader. The house has the edge and the house always win in the end.
Some traders might consider binary options to be very similar to sports betting, but they would be wrong. In sports betting, bettors are usually placing a bet on the final outcome of a game that lasts let's say – 90 minutes. In binary options trading, traders are placing a real trade on the outcome of price movement after the options time has expired. But that is where all similarities end.
Sports betting is still just betting, while from a legal point of view, binary options are considered to be a financial instrument. They are regulated in a different way and cannot be compared. Betting and binary options are not the same thing and cannot be seen as such.
Binary options, as all types of financial trading, have some risks attached, and traders have to be aware of them. Betting, also involves risks, but as a fairly old phenomenon, it is more familiar to the traders than binary options trading.
All readers who want to experience binary options trading should be cautious, get proper education and trade with regulated brokers.
Nobody can predict the future. We can all speculate and try to predict it based on knowledge, feel, and experience, but you can never know all the variables. The reason why binary options are more interesting and profitable than sports betting is that you are betting against the market. You can find a nice market and gain an edge. Winning punters get banned from betting at bookmakers or limited to bet very small amounts as the bookmakers way of saying "Go away! We do not want your action".
Poker is by most poker players considered to be a skill game. On the contrary, most governments label it as gambling. Poker and binary options have several similarities. A skilled poker player has an edge vs. a newcomer to the game just like a skilled trader has an advantage over a random person on the street. Short term, the inexperienced can be just as profitable as the skilled trader/player and in some cases even more profitable. It is hard to argue that becoming an experienced trader and obtaining knowledge about different strategies while possessing a general understanding of the game/market will not have a positive impact on your ROI. Short term, luck does not make one resilient in the market long term.
In poker and binary options trading, you do not necessarily play against the house. On a small scale you do; on a large scale you do not in binary options trading. The 'house' takes a small fee of your trades. The brokers naturally need to pay its staff salaries, marketing is costly and the online binary options brokers are being scrutinized by governed financial institutions securing the company is following the laws and regulations. We highly recommend that you only deposit with brokers that you find listed on our site. This will secure safe payouts and should you face any difficulties we can assist you.
Poker involves a high degree of analyzing peoples´ betting patterns when doing an opponent check, bet, raise or fold in certain situations. When you start picking up a pattern, you gain a financial edge and stand to increase your profit rate. Keep in mind you will always make mistakes regardless how savvy you become. Another important factor is that in poker, as well in the stock market, people can get distracted by their emotions. They hang on to a hand that looked good 5 minutes ago or keep shares because they have a personal relation to the company beyond pure and simple profit making. On the contrary, one might possess knowledge or have a secret strategy hence buying when then the most obvious move would be selling and cut the losses. You never know for sure. That is the beauty!
Binary options trading can be learnt if one takes enough time to learn all about technical and fundamental analysis. Traders need to know basic chart patterns and indicator tools so they can start gaining experience in the market. We always recommend using the demo account to test one's abilities before investing real money and trading. This way traders can see at which level they are and how much more they have to improve to become truly successful traders.
Is Binary Options Legal?
Binary options trading has quickly become one of the most popular types of trading nowadays. People are attracted to it because it is fast and easy and there are hundreds of brokers online who offer their services to the traders, so they can place their trades from the home computer or mobile phone. Binary options are rock stars of the trading industry, but many are concerned if binary options are legal.
Trading binary options has been around for many years and is better known as digital options. Throughout history, the trading was done as an over the counter transaction and there was not much regulation. Today, more and more countries decide to legalize, but also to regulate it for public's safety.
The only reason binary options can exist is due to the transparency of the prices and the fact it's being regulated through regulatory bodies. In each Broker Review traders will find where the broker is being regulated.
When traders decide to open a binary options trading account with a binary broker, they will discover that broker usually asks for proof of identity. By regulating binary brokers, regulatory bodies created a better trading environment and prevented many scams. Some traders find this step annoying but keep in mind that it is created for trader's safety as well. Certain steps are making money laundering less possible, as well as the chances that someone else is using trader's card. Additional steps and security checks are a sign of a serious broker.
Binary Options Payment System
Due to the development of technology, people are daily faced with various forms of payment. It has been a long time ago when people were using cash transactions and bank payment at the counter. Nowadays, there are a variety of possible payment methods, used among people worldwide both globally and locally.
The development of online payment systems has enabled people to invest their money without any difficulties deposits with the binary options brokers. We will explain in more details what kind of payment methods exist in the world and which ones are most commonly used.
Binary options traders worldwide use a wide range of possible payment methods; debit and credit cards, bank wire transfer and e-wallets. Binary options brokers, who want to be present in the global market, should have in mind many advantages that online payment methods offers. This will greatly speed up and ease the payment process between customers and businesses.
Debit Cards
Debit card, also known as a bank card is a card with which the cardholder makes payments directly from the bank account. Use of debit cards is very popular payment type, which binary options traders use instead cash payments. Main difference from credit card is that when withdrawing money, one is directly taken from the account and not upon due date later on. Maestro is the most used debit card, especially in Europe.
Credit Cards
On the other hand, credit cards are issued by local banks, where cardholder has to pay the amount in full once a month at the chosen due date. With credit cards it is also possible to withdraw funds through ATMs. Some of these credit cards are: Mastercard, Visa, American Express etc. Mastercard and Visa are mostly popular in European countries. They don't need too much introduction since everyone knows how to use them. Although there are another online deposit and payment methods, credit cards are still considered to be the world's most popular payment option. This is mostly because people worldwide are for years now, used to the credit cards payment and most important, satisfied with this payment type. In binary options world, card payment in the most used deposit and payment method and binary traders use a variety of possible debit and credit card types.
How is it that online payment methods recorded increasing popularity? We believe that one of the key elements of online payment system is the fact it is the easiest and quickest way to make payments through different locations.
Wire Transfer
Wire Transfer is an online payment method from one bank to the another bank in the same day. Many binary options traders prefer to use bank wire in order to deposit their money with the chosen binary options broker. Bank wire is the slowest and probably the most complicated way to deposit in binary options. It can also carry significant banking fees. Usually brokers do not charge fees when depositing via bank wire, however, many brokers require fees when withdrawing money via bank wire. It may take several days until the bank processes the requests and the money lands on the trading account with the binary broker. For you to wire money, you need to submit several important information, such as bank name and SWIFT number, account number, bank address and phone number. In accordance with their business, banks charge customers with a certain fee, depending on is it coming or outgoing wire transfer. For coming transfer, fee is $13, while for outgoing is $25 and international transfers $40.
E-Wallets
In addition to card payment and bank wire transfer, another additional online payment method appeared among customers, who prefer online payment system. Let us introduce you to E-wallet. E-wallet is among the most popular and easiest ways for online payment. Idea is to create virtual account, where one will fill up with money and afterwards, it is possible to make payment in stores and online businesses. Nowadays, not everything is about debit and credit cards. There is a variety of e-wallet providers who offer their services to the people worldwide. Further in this article, we will handle more closely what are the most popular types of this payment method.
In online business, e-wallets are the most common choice. Payment is easy and secure due the fact they use a highly developed technology and top notch security system. You are probably asking yourself. where to begin? First, you have to choose the best suitable online payment provider. To be able to have e-wallet account, one must sign in. Log in is a simple process where in just few steps, account is created. Once you are logged in, you don't have to insert credit card details for every transaction made.
This way, online payment is simplified and quick. With some e-wallet provider, there is no needed minimum amount to be paid, and some require very low amount, such as $10. This online payments method requires from the payment provider to set up an account in the bank and then and then those services offer to their customers. It is provider's choice to have a possibility of card payments on their account. If they support credit card payments, it is required to have a so called, merchant account, opened in the acquiring bank. Basically, these online payment providers earn money on enabling e-business to use their merchant account.
The world's most popular e-wallet providers are: PayPal, Skrill Moneybookers and Neteller. There is also a wide range of other providers, but these are more localized. Above mentioned companies are well known among people all around the world.
PayPal
PayPal is probably the most popular online payment method in the world and very often used in binary options trading. Traders can deposit and withdraw their money through PayPal. It is considered to be a safe way for an online payment. Founded back in 1998, PayPal offers customers several ways to perform payment; such as bank accounts, credit cards and PayPal Smart Connect. In a short period of time, they achieved great popularity and are available in 190 countries with 24 different currencies. PayPal payment is secure, because of its Buyer Protection. Registration process is quick and easy and requires several information to be submitted: credit card details, proof of identity with username and password. It is also possible to have PayPal Mastercard, which can be used in online shopping. There is no fee for open a PayPal account. However, in personal payments, in US fee is charged 2,9% + $0,30 of the sent amount for those who use credit card. Same thing is with receiving money. International payment is available and fee depends on the exchange rate of a particular country. With withdrawal money, one can submit withdrawal request with no fee from PayPal account to the chosen bank account, without the check, otherwise fee is $1.50. Nowadays, a lot of new payment providers appeared, so PayPal isn't the only one anymore.
Skrill Moneybookers
Back in 2002, moneybookers.com domain started with online payment method. In 2011, they rebrand their service as Skrill. Up till now, Skrill is available in 200 countries with 40 different currencies covered. Skrill supports debit and credit cards. To open a Skrill account, you have register with email and provide certain personal data and afterwards activate the account. Once logged in, you can see the account balance and when you send money, it will arrive instantly. The basic fee is only 1%, maximum $10. For sending money internationally, exchange rate usually start around 2.99%. Customers can choose, whether they wish to spend the money or withdraw it. It is possible to access the money via Skrill Prepaid Mastercard or the money will arrive on the bank account. With their Mastercard, customers can use over 1.9 million ATMs around the world.
Initially, Skrill became very popular in the gaming world and now is one of the leading e-wallet payment methods worldwide. Reason why customers use Skrill payment is because of its simplicity, low commission fees and immediate transfer of funds. This e-wallet is very popular and often used deposit and payment method in binary options industry. Majority of binary brokers offer their registered traders to deposit and withdraw funds in binary options via Skrill Moneybookers.
Neteller
As Skrill's rival, Neteller is also considered to be one of the leading online payment providers. They provide customers with Neteller Mastercard for quick payments and possibility to withdraw money on ATMs worldwide. For money transfer, there is no fee and for Mastercard, fee is 4 EUR on ATMs. For currency conversion, 2.95% fee is required. Founded in Canada, Neteller is also gain popularity in the world of online casinos and later on, people worldwide started to use this company for their personal payments.
While choosing the best suitable binary options broker, it is important to be aware of potential risk, when we talk about online business. This is why security is the main goal of all reliable binary options brokers.
Majority of binary brokers operate internationally and for this reason they want to provide the best and the quickest way for traders to receive their funds. So in this industry, popularity of e-wallets is widespread. As mentioned above, there are different possible online payment methods, from credit card payment and bank wire to the e-wallets. The last one is the most popular and most used, due to its simplicity and speed. This payment system is well known and used among traders worldwide, who on this way deposit money to able to trade with binary options and later on withdraw their funds.
Binary Options Withdrawal
Withdrawals are always a topic that is interesting to customers since it is the moment when they get to take their profits home. Many binary options brokers do not charge fees for withdrawals, however, some of them require percentage based fees for withdrawing to credit cards or e-wallets. Most brokers, however, charge fees when traders withdraw their funds via bank wire. These fees range from zero to $30, while only in rare cases does one encounter huge fees that reach $40 or $50 per request. This is used by brokers to cover their own banking expenses. Since many brokers offer free withdrawals with some advanced account types, there is a way for the customer to avoid these fees if they deposit more with such brokers. Some other binary brokers guarantee one free withdrawal per month. So there is a way to escape paying the fee even with the bank wire withdrawals. Entire process of withdrawing funds is usually up to 3 business days, from submitted form to the money visible on the account and all the business is done securely over the Internet. Although these e-wallet providers do charge small fee amount, traders benefit from such payment option, because it gives them far more advantages, such as real time money transfer and simplicity.
Many binary options traders are asking themselves, and often the broker appointed account managers a simple question: why does it take longer to withdraw funds than to deposit them? In many ways, with all the bad cases of withdrawal refusals Fair Forex Brokers dealt with over the years in mind, binary options withdrawal process is becoming a major source of frustration for many traders that feel anxious when placing a withdrawal request. While we cannot deny there are many times when such fears were grounded, as our own experience shows, there are many reasons for withdrawals to require more effort than simply depositing.
One of the biggest sources of discontent among traders is the process of ID verification that is part of the anti-money laundering regulation enforced globally. In this article, we want to talk about anti-money laundering (AML) regulations in binary options, but we will also cover some general facts about this global regulatory framework. Many customers are reluctant to give their personal information to the broker just to receive their money. We hope that after this article explaining the reasons behind these anti-money laundering measures, traders will find it easier to understand the whole process and the reasons for the delay that is tied to ID verification, or as many binary options brokers call it – know your client (KYC) policy.
Some binary options brokers allow traders to deposit and some, even to withdraw in bitcoin. Bitcoin is the so called cryptocurrency that only exists in electronic form. Since it was not created nor it is controlled by the government, it is also out of reach when it comes to money laundering regulations. We have recently reported the fact that Belgian regulator is forbidding trading with options based on bitcoin, but this does not cover the money laundering since it is about transactions from and to customers account that cannot be traced adequately with bitcoin.
While AML policy can be a little annoying, binary options brokers are bound to execute it in order to keep transaction in a legal territory. This way they are ensuring the regulatory framework works as it should, and they are protecting their own businesses from actually being prosecuted for not complying with all the rules. This also has positive effects for the industry, since it would be a very bad publicity for binary options trading in general if binary options brokers were scrutinized for not complying.
For binary options brokers, this is a routine task and nothing more. Traders should see it that way too. Trough the years we have named many ways that withdrawals can be delayed, especially if the customer accepted a bonus. Traders should be on the lookout for these kinds of restrictions. We hope our article managed to clear this issue and ensure traders that withdrawal delays tied to the AML are unavoidable since it is highly unlikely that we will see global AML regulations get scaled back in the future. The best way to make the process faster is to prepare all the required documents before withdrawal so the processing does not take long.
Binary Trading ID Card
We have written a guide explaining how to proceed before making your first deposit when trading binary options. There are loads of rules and regulations that the binary brokers have to oblige to be able to operate as a legal financial institution.
If you have never traded before you will probably not be aware that is easier to deposit than it is to withdraw. The banks are allowed to process your deposit once you fill in a purchase order. The binary brokers do not process your deposits themselves. This is done via processors that operate with credit card companies and banks.
When you buy goods online you are able to use a stolen credit card if its not blocked. Same goes for trading options. However once that card is reported stolen the account and money will be frozen and given back to the card holder. When you deposit and later on request a withdrawal the brokers needs to be sure that the person that is receiving the cash is the same person who was liable for the deposit. In order to do so the brokers carry out a routine ID security check.