Are Forex Signals A Way To Boost Trading Profits if You Are Not Knowledgeable Enough?
For an ordinary investor, the question remains – how to detect trading opportunities and possibly make money. While there are many strategies and techniques that can be implemented when trading online, trading signals are the most common tool that proved to be useful. The idea is that if you don't know (yet) how to sport good trade opportunities, let someone else help you with recommendations or tips.
How does trading signals work?
Forex and options signals can be used as an additional piece of information during the trading sessions that helps traders decide on their next move.
Depending on the type of the instrument which is traded, signals include some common information:
Asset: obviously, signal needs to specify which underlying asset should be traded
Direction: Is the price of the asset expected to rise or fall
Strike price (optional) : some signals will include strike price, meaning its the level of the price at which the trade should be made. If not specified, trade immediately as the signal arrives
Notice how Asset and Direction (the arrow) are presented in FXMasterBot, which is one of the signal providers.

Binary options signals – closing the trade
Expiry time: in order to trade binary options signals, one needs to also specify the expiry time of the option. These can be various – from 30 seconds to end of day, or even end of month
CFDs / Forex signals – closing the trade
Since these types of instruments do not include expiry time, trader either has to close the trade manually or set "stop loss" and "take profit" limits in the trading platform software of the broker. This way the trade will close whenever price reaches one of these two levels.
Traders can use signals to confirm their own prediction or to place a trade directly, by using special software. Notice the trade button above in the FXMasterBot screenshot – one can use it to trade the signal directly by sending it to one of FXMasterBot brokers' trading platforms. With other brokers, which due to regulations require a manual input, one needs to set everything manually. See below how this is done with 24option platform and FXMasterBot signals. This scan be applied for other signal providers as well, with minimum modifications.
How to Trade Forex Signals Directly on the Platform?
Before you start trading, make sure to have two tabs opened, one with your free live signals provider (in this case FXMasterBot), and one with the broker (24option). Log in to both platforms using FXMasterBot credentials and the credentials sent to you by 24option via email, so you are ready to trade.
Step 1 – find a forex signal you like to trade
FXMasterBot will deliver continous live signals. You can choose one, or more of them if you like, depending on your account level. Every signal has several elements we already mentioned, including Asset – which shows which asset type the signal refers to, and direction. Direction is usually displayed in shape of an arrow – upwards arrow means you should buy, and downwards arrow you should sell.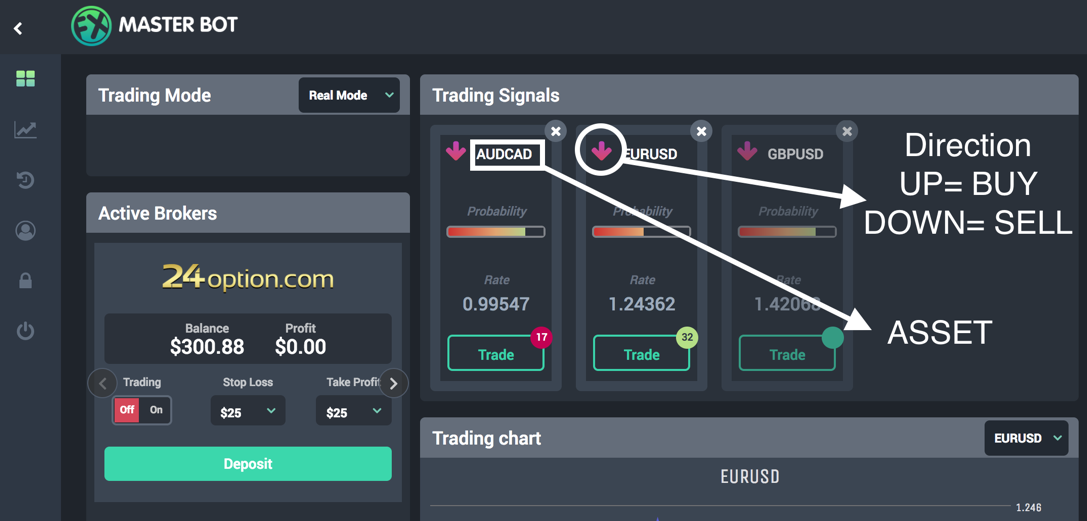 Step 2 – Create a trade with 24option
Switch the tabs and visit your forex broker, in this case, 24option. In the asset list find the asset the forex signal refers to. Enter the number of lots, and set leverage according to you own preference.
Step 3 – Place the trade with 24option
In order to finish the signal implementation, you will have to choose close at loss and close at profit if you like. If not, you will have to close the trade manually. Also, select buy or sell, depending on what the signal tells you. In the end, press Trade.
Types of assets for online trading signals
We can divide signals depending on the type of trading or underlying asset they refer to:
Forex signals are related to currency pairs like EURUSD or GBPEUR. Forex signals are one of the oldest signal types, as forex trading became popular before other types of trading.
Related to binary options, options signals cover many underlying assets. What makes them special is addition of expiry time – the time by which the options signal is valid for use.
Forex signal providers often offer CFDs signals as well. CFDs signals are related to bonds, commodities, stocks and similar.
Cryptocurrency signals (bitcoin signals, ethereum signals, ripple signals etc.)
The latest addition to signals industry. Cryptocurrency signal providers usually offer different signals related to different cryptocurrencies: bitcoin, ethereum, litecoin, dash, ripple, ethereum, etc.
Free Binary / Forex Signals Demo and Free Trial
Some signal providers offer demo accounts, however not many. In this case, readers are usually assigned a certain amount of virtual money they can use to try out the platform for a limited period of time. This way, once they start placing real trades, they will be familiar with all tools and features. Try to find a signals provider that offers free live signals on the demo account so you can immediately test the winning rates.
How Do I Get Trading Signals?
There are several systems in use when it comes to delivering binary options and other types of signals. We have already shown how it looks in an integrated software above. But there are also other methods:
Skype signals

Whatsapp/ Telegram/ Viber groups

Facebook groups and messages

SMS

Email

Mobile apps with notifications

Browser plugins

MetaTrader Plugins

CopyTrading Platforms
Before using any signals provider, traders must make sure they know basics of trading. They can educate themselves about financial markets and trading risks. Some signal services are also providing suitability tests that are estimating traders' knowledge, experience, understanding of risks and the entire trading process. Brokers have to do this because most regulators require it.
How Much Do I have To Pay For Forex Signals?
In past, it was common to pay for signal service, but as the options, forex and CFD trading industry progresses we see more and more of these signal services becoming free.
Free is always good, almost always. Free options and forex signals have only recently become free, and it seems that CFD signals and crypto signals are seeing the same approach. Bitcoin, ethereum, and ripple signals are also becoming more commonly free. The interest for crypto trading is high and it is only logical to offer free services considering hard competition. If the signals are free, providers usually earn fees from the brokers, so the burden of payment is not on the customer.
Free Binary Signals vs. Paid Signals
In many ways the price will also determine the reliability of signals, however, do not see this as a general rule. Some verifiable data should be available to check the truthfulness of the claims, or at least a demo account with virtual funds.
Of course there will always be traders who claim how paid signals are more reliable and more trustworthy than free trading signals. Still, the traders who are only entering the world of crypto signals, forex signals or options signals will find it difficult to pay for both minimum deposit with the broker and signal providing service. Imagine you have to pay $250 deposit for bitcoin broker and additional $100 for bitcoin signals, while at the same time you have  free bitcoin signals provider at your disposal, yo you can deposit $350 instead.
How do Online Forex Trading Signals Get Formed?
Forex signals can be created on the basis of both – technical and fundamental analysis. Algo trading usually uses some sort of indicators and various trend line strategies since these are the easiest rules for the computer to understand. There are many financial indicators that are used by both traders and algorithmic trading. Some of the most popular are:

Traders can do this themselves when they master the market analysis (see our Academy section), however, it does not mean they cannot profit from signals even in the case they are experts themselves. Signals can help traders who know how to trade well, expand their portfolio by increasing the overall number of trades trader can place. The trader can only analyze so many opportunities himself so signals can be helpful to cover more ground.
Forex Copy Trading Signals
Copy trading is a special form of online trading. Basically traders can decide to follow other traders (like they would follow someone on a social network) and simply copy the trades they are placing.
And while this seems to be the answer to all our prayers, bear in mind how copy trading is never risk-free. Especially when it comes to crypto signals, there are many self pronounced gurus that are faking their results and generating inaccurate signals. Traders that are the source of trading signal also get a small commission for every trade that is copied so it is in their best interest to look as legit as possible.
Not all traders can be successful with all assets, so there is a low probability that a single trader will generate accurate bitcoin signals and forex signals. If you want to trade copy trading signals make sure to find a reliable forex, CFDs, options or crypto signals provider.
eToro – which is the world's largest copy trading network claims that 78% of all copied trades ever were successful. However, individual rates vary from so called "popular investor" to "popular investor", and so will also individual traders' success rates vary. This is not given, not should this number set expectations since past returns are not indicative of future returns.
The Best Binary Options Signal Providers
In the past, most forex and binary options signals had to be placed manually on the broker's platform. For example, you would receive an email or and SMS with a signal, and then had to log in to the broker's platform and trade in the recommended way. Of course, it is pretty obvious how such binary options signals providers required a high level of engagement. Also, there was a high chance that trader will make a mistake and enter the wrong data.
Nowadays, best forex, options, CFD and crypto signal providers are all integrated directly with the broker. This means that once you log in with your signals provider, all signals can be easily executed on broker's platform without any additional effort. Modern forex and options signal providers, as well as bitcoin, ethereum and ripple signal providers, or CFDs providers, are web-based and require no downloads. They rely on algorithmic trading so the entire trading is automated. Of course, some of them still offer an opportunity to manually accept every trade.
Free Forex Signals With FXMasterBot
FXMasterBot is a relatively new forex signals provider. FXMasterBot not only offers free signals, but live signals as well, which means that traders can execute trades as soon as trading opportunity occurs. The start of the service has been hit by some technical issues, but the signals kept coming. FXMasterBot also has a free demo that you can use to get an idea how it works. With $1500 virtual money, you can easily upgrade your level of knowledge prior to real trading.
Free Crypto Signals With CryptoRobot365
CryptoRobot365 is an auto trading software specialized in crypto trading. It delivers free trading signals related to bitcoin, ethereum, ripple, litecoin and monero. All crypto signals are delivered free of charge, directly to the trading platform where they can be placed as a trade with a broker. CryptoRobot365 is not charging any additional fees or commissions, so traders can be sure they will always trade with lowest cost possible.
CryptoRobot365 lists examples of successful traders
To learn more about options trading signals, we recommend references below.