NADEX demo account is a great opportunity not only for beginners but also for binary traders who are experiencing this platform for the first time.
In order to use the demo account, traders must fill a simple registration form. NADEX demo is completely free and doesn't require initial deposit. After filling the form, activation link and password are sent to the email address provided.
The trader gets an account with virtual $10,000 available for trading. The demo trading platform is very easy to understand and use. On the left side, traders will find different types of trading listed, and on the right side the assets available.
In order to place a trade, user must click one of the assets available, and a ticket will open. The ticket is basically a window where traders place their trades. Trader can enter the amount and wanted direction. Then, trader just has to wait for the expiry time to end, and see if the prediction was right or wrong.
The demo account is a great way to get familiar with the platform as there is no real risk involved. It is very helpful as it enables traders to test their strategies and methods before implementing them in real trading that involves their real money.
NADEX Account
NADEX, or North American Derivatives Exchange, is the most popular binary exchange in the United States. No wonder, many traders are looking for a way to trade with them. NADEX provides two account types. One is real trading account that requires deposit in order for trader to start trading and make profit, and the other is demo account that is created for beginners and traders who are trading with NADEX for the first time.
The real trading account
requires a minimum deposit of $250
direct market access
real-time charts
fully customized their trades
NADEX accounts are all used for trading on the safe and reliable platform in a regulated environment.
The demo account is completely free and does not require an initial deposit which has become rare among brokers and exchanges. These NADEX accounts are a prove that this exchange did their best in order to provide service for professional and experienced traders, but also for beginners who are just entering the world of binary options. All NADEX accounts are also accessible via mobile devices: phones and tablets.
NADEX Login
NADEX login and registration process are very easy, even for beginner traders who are trading binary options for the first time. Traders who already have an account must simply press 'Login' button on the top of the website and enter their username and password, while new traders must complete registration process.
Once the traders click 'Open an Account' they are redirected to the page where everything is explained in simple steps.
During the first NADEX login, traders must provide all basic information like name, address, and phone number. Filling this form is only the first step in creating an account with NADEX.
The second part of the NADEX login process is providing additional data like date of birth, citizenship and employment details. US citizens must also provide their Social security number, as well, while citizens from other accepted countries have to type in an ID number. This is a standard procedure, and NADEX login and registration aren't much different from what can be seen with other brokers.
The third part of registration that must be finished in order to get an NADEX login is a questionnaire. It consists of 6 questions regarding traders' possible criminal past that involves forgeries, bribery, false pretences, racketeering etc.
Every trader is allowed to answer one question with 'yes'. In this case, the trader gets an opportunity to answer additional questions regarding that matter. If all answers are 'no', trader may continue to step 4, select username, password and accept the terms and conditions. The activation link will be sent to the email address provided, and trader can successfully login to NADEX trading platform.
NADEX Deposit
Traders who want to place their trades with NADEX, must know all about NADEX deposit conditions. The minimum deposit is $250, which can be considered low compared to other brokers and exchanges. Deposits can be done simply by clicking the 'My Account' tab on the trading platform, and selecting 'Account Funding'. NADEX deposit is not unified procedure and highly depends whether the trader is US citizen or not.
US traders can select
a debit card,
bank transfer,
wire transfer and
paper checks
Every method has its pros and cons, and every trader must make their own decision on deposit method. NADEX deposit is very well explained on the website, so traders can always look there for additional info.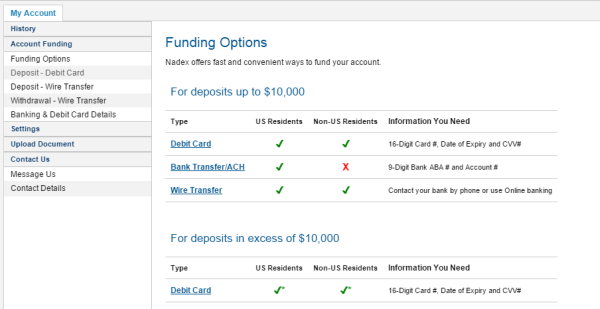 Non-US traders can use
debit cards and
wire transfers.
This is completely understandable, as checks and bank transfers are not so popular outside the US.
No matter where the trader comes from and what method is being used, NADEX provides completely safe and secure transactions thanks to the advanced usage of various security components.
NADEX Withdrawal
NADEX withdrawal is very easy and, most important, safe. Depending on their citizenship, traders can select one of the methods offered. The reason why non-US traders have fewer methods available is simply because wire transfers and cheques are not so popular in other parts of the world.
US residents can make withdrawals by
wire transfer and
ACH method.
ACH withdrawals are free of fees, but take up to 5 days. The funds are transferred to the bank account used for depositing. Wire transfer is usually processed within 2 working days and are charged $25 fee. Those who deposited with a debit card can use one of the methods mentioned in order to make an NADEX withdrawal.
Non-US residents can use wire transfer during NADEX withdrawals. Wire transfer withdrawals are charged with $25 fee. No matter the method used, all accounts have to be verified, just like the debit cards and bank accounts. This is so due to legal policies in the USA.
NADEX Debit Card
Debit card is very popular payment method all over the world, and it is also supported by North American Derivatives Exchange.
US traders can use it for depositing, and the good news is that the funds will be transferred almost immediately. The maximum deposit limit is $50,000, but it can also be lower, depending on the bank. Traders who want to use debit card, must send a bank statement that reflects the NADEX debit, full name, full account number and 9-digit routing number every time a new card is being used.
Non-US citizens can use debit cards for immediate depositing, with a limit of maximum deposit of $50,000. This limit can also be lower, depending on the bank. Non-US residents are not allowed to use debit cards for withdrawing. Every time a new card is added, they must verify it by sending bank statement and 9-digit number together with their private information. Withdrawals are usually allowed 7 days after the deposit, or day on which the bank statement is received (whichever is later), but can be done only via wire transfer.