HQBroker is an unlicensed forex and CFDs broker based in Hong Kong that offers investors over 200 instruments to trade including forex, spot metals, commodities and derivatives on the popular MetaTrader 4 platform. Find out what differentiates this forex broker from the rest and all the HQBroker pros and cons in our full review below.
Account Features
You will notice that HQBroker has five different account options for you to choose from. Like most brokers, their accounts range from a beginner/starter account to a more VIP/investor account. The minimum deposit to open an account with HQBroker is $250. This is the most common minimum deposit amount required from most forex brokers, so this was no real surprise.
Tip: If you are looking to trade with a lower minimum deposit, try IQ Option. You can open an IQ Option account with just $10!
Demo Account
Unfortunately, HQBroker does not have a demo account available. This was an instant disappointment, as demo accounts are a great way to test a broker's platform and practice trading entirely risk-free. With HQBroker, you will need to deposit $250 to get access to their platform, where you will start real trading immediately.
If you are a beginner, we strongly recommend going with a broker that offers a demo account, so you can get your practice before investing any real money.
Starter Account (Beginner's Account)
This is HQBroker's most popular account – the starting account. This is the account we would recommend to beginners, as it is by far the cheapest option and most features remain similar even when compared to the most advanced accounts.
$250 minimum deposit
0.01 minimum lot size
Floating spreads
MetaTrader 4 platform
Mobile trading
Account manager
Silver Account
We do not recommend trading with the HQBroker Silver Account. The only thing that appears to have changed here compared to the HQBroker Starter Account is the minimum deposit amount – which increased by a few thousand dollars.
$5,000 minimum deposit
0.01 minimum lot size
Floating spreads
MetaTrader 4 platform
Mobile trading
Account manager
Golden Account
The difference with the HQBroker Gold Account (besides the increasing minimum deposit) is the spreads are now fixed, and bank wire deposits are free.
$20,000 minimum deposit
0.01 minimum lot size
Fixed spreads
MetaTrader 4 platform
Mobile trading
Account manager
Free bank wire
Platinum Account
Traders that choose the HQBroker Platinum account will gain daily analysis as an extra feature.
$50,000 minimum deposit
0.01 minimum lot size
Fixed spreads
MetaTrader 4 platform
Mobile trading
Account manager
Free bank wire
Daily Analysis
Investor Account 
The HQBroker Investor Account is the most advanced account the forex broker offers. The minimum deposit has reached incredibly high levels and the only evident difference here is the added 24-hour customer support. We therefore do not recommend any account but the Starter Account if you want to trade with HQBroker.
$100,000 minimum deposit
0.01 minimum lot size
Fixed spreads
MetaTrader 4 platform
Mobile trading
Account manager
Free bank wire
Daily Analysis
24-hour support
Trading Software & Assets
With HQBroker, you will find over 200 instruments that you can trade with up to 1:400 flexible leverage, which include:
Forex – 50 + major + exotic currency pairs (EUR/USD, USD/JPYGBP/USD etc.)
Spot Metals – Precious metals like gold and silver
Commodities – wheat, coffee, sugar, corn etc.
Derivatives – stocks, indices, equity shares
MetaTrader 4 Platform
You will be trading on the world-famous MetaTrader 4 (MT4) platform – which is a forex and CFDs trading platform mainly created for more professional and experienced traders. HQBroker's Meta Trader 4 platform is powerful and full of advanced features that you won't find on any other regular trading platform. HQBroker gives you the option to download MT4 onto your PC/laptop or access it online as a web trader.
The only problem is that MT4 is not a perfect choice for a forex trading beginner. This is not to say a beginner could not use MT4, but the platform will definitely appear a bit overwhelming at first.
This was an immediate disadvantage of HQBroker. Most forex brokers look to offer a simpler option for beginners. Not only does HQBroker not offer a web trader especially created with beginners in mind, but the forex and CFDs broker does not even offer a demo account for beginners to practice (as mentioned above). For these reasons, if you are just starting to trade, we would not recommend going with HQBroker – but a broker like IQ Option that offers a free demo account and their own proprietary trading platform that is especially easy to use.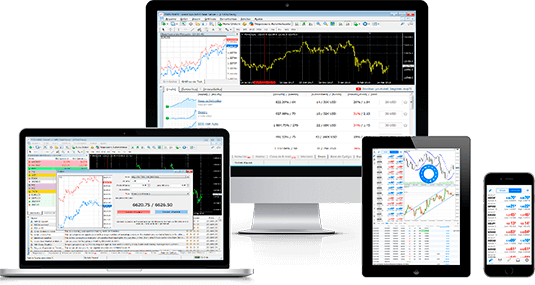 HQBroker Mobile Trading
If you prefer trading on-the-go through your mobile or tablet device, HQBroker also has a mobile app available – for both Android and Apple devices. Whether you use the HQBroker Android Trader, the HQBroker iPhone Trader or the HQBroker Tablet Trader, you will be given the opportunity to access the markets directly from your mobile device at any time. Of course, the mobile app will also be using the MetaTrader 4 platform.
Support Information
If you have any questions or problems, you can contact the HQBroker customer support team via email, phone, 24/5 live chat or the online contact form on their website contact page.
Email: [email protected] (HQBroker customer support)
[email protected] (for more general inquiries)
Phone numbers (sorted by country):
Ireland: +35315133282
Cyprus: +35722030997
Italy: +3901311720089
Switzerland: +41435089669
Denmark: +4578737284
Germany: +493030806746
Australia: +61283112126
United Kingdom: +442038683186
Russia: +74996094221
Ukraine: +380947119631
HQBroker is owned and operated by the company CapZone Invest Ltd. located in Hong Kong. Specifically, their offices are located at the address 7/F, Low Block, Grand Millennium Plaza, 181 Queen's Road Central, Hong Kong.
Banking & Company Information
The minimum deposit to begin trading with HQBroker is $250. The deposit methods you can use are credit/debit card (Visa, MasterCard) and bank wire transfer. Keep I mind that wire transfers may take 2-5 working days to be processed, whereas credit and debit card deposits are instant. HQBroker accepts the currencies USD, EUR, GBP.
To withdraw your money from HQBroker, you will need to use the same method used to deposit. The minimum withdrawal for bank wire transfers is 50 USD and your withdrawal request will take between 3-15 business days. As for credit/debit card withdrawals, the minimum withdrawal amount is 0.01 USD and your request may take from 3-7 business days to be processed.
HQBroker Pros & Cons
Through our detailed HQBroker review, we have listed the pros and cons of trading with this forex broker to help you decide whether to trade with HQBroker or not.
Pros:
MetaTrader 4 platform (the most popular forex trading platform)
Cons:
Not licensed
No demo account
Not suitable for beginners (no beginner trading platform, no demo account to practice)