Binary.com app is a mobile application for binary options trading. It is also called Binary.com Tick Trade App, and it allows binary trading in just a few clicks. Traders must have Android device in order to use Binary.com app, but it is expected that iOS app will be coming soon.
Binary.com Tick Trade app is fast, powerful, and action-driven. Traders get the opportunity to use it the same way just like they would use the desktop platform, but they are not restricted to their home computer or laptop.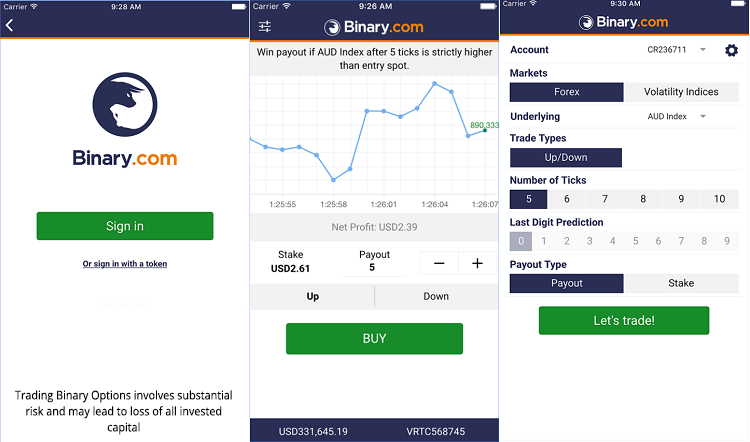 Easy to use trading interface of the Binary.com app is allowing traders to simply select an asset, choose binary options trade type, predict a direction, enter the trading amount and place the trade. Binary.com app traders still have all control and don't have to worry as long as their Android smartphone is compatible and updated along with the trading app.
Binary.com app is available in English and Indonesian, and free to download. Traders can also use it to follow their trading history and find new trading opportunities on the market. Binary.com app requires 4.4 or more advanced Android version in order to deliver safe and reliable binary options mobile trading.
How to Use Binary.com Demo Account?
Binary.com demo will come in handy to all traders who never traded binary options before, or have never experienced trading with Binary.com. Binary.com demo account is available to all traders who sign up with this broker.
Demo account comes equipped with $10,000 virtual money. This money can be used for trading on Binary.com demo, but not for making a real profit. Still, it provides the possibility for strategies testing without exposing real funds to risk that is always present in financial markets.
Traders who don't know where to start can easily follow instructions that are available on Binary.com demo platform. Instructions are guiding traders step by step so there are no misunderstandings or mistakes. $10,000 is really enough virtual money for everyone who wants to try binary options trading before making a real money investment.
Binary.com demo review showed that this account type offers all features, elements, and tools available on the real trading platform and will definitely prepare traders for real trading.
Traders must be aware that Binary.com also supports Forex trading, and that they should carefully select the asset before starting to trade on demo trading platform.
Is There a Binary.com Strategy?
Many traders are wondering if there is such thing as universal Binary.com's strategy. There are even blogs and websites dedicated to revealing strategies regarding this interesting broker. However, traders should know that there is no special Binary.com strategy. Best Binary.com Strategy is education, and traders should put some time and effort into education in order to achieve the best trading results.
Binary.com strategy should be based on education and learning. Luckily, Binary.com as a responsible broker offers great education center where traders can find out more about different methods they can use during analysis for more profitable trading.
Binary.com strategies that are available in the educational section will improve trader's knowledge and trading skills, but keep in mind they are not instant solutions. Responsible binary options trading should be imperative even when it comes to strategy chosen for Binary.com trading.
The products offered on the Binary.com website include binary options, contracts for difference ("CFDs") and other complex derivatives. Trading binary options may not be suitable for everyone. Trading CFDs carries a high level of risk since leverage can work both to your advantage and disadvantage. As a result, the products offered on the website may not be suitable for all investors because of the risk of losing all of your invested capital. You should never invest money that you cannot afford to lose, and never trade with borrowed money. Before trading in the complex products offered, please be sure to understand the risks involved.