Trading binary options & CFDs involves substantial risk and may lead to loss of all invested capital.
24option has minimum deposit of only $250! Start trading with this online broker today!
As one of the most popular CFDs brokers, 24option is a CySEC regulated broker operating under license number 207/13 and registered by a number of institutions. 24option takes measures to safeguard Clients' Funds. In this sense, the Company cooperates only with banks authorised and regulated by EU member states and that are highly rated by credit rating agencies.
24Option Deposit Methods
Depositing with 24option can be done using numerous payment services that are available online today. As expected they also support most popular credit cards and traders can also use bank account to wire the money "old-fashioned way". All deposit methods have their pros and cons. However, with a list as long as 24option's most customers won't have problem depositing with the payment system of their choice.
As with other Forex brokers, a proof of ID is required to start trading. Regarding the payment methods, we have listed most of them for customers to have a clear idea which services they can use:
Visa
Visa Electron
Mastercard
Discover
Delta
Skrill
Neosurf
CashU
Qiwi
AstroPay
Sofort
Neteller
WebMoney
Paysafe Card
thawte
Diners Club
moneta.ru
GiroPay
iDeal
Bank Wire
Credit card payments and e-wallets are the fastest way to get your trading account ready for investing with 24option. Bank wire deposits are the slowest in addition to requiring the biggest minimum deposit requirement.
24Option Minimum Deposit & Maximum Deposit
All online CFDs brokers have minimum and maximum deposit amounts, and 24option is no exception. The 24option minimum deposit amount is the smallest amount of money that a trader must deposit in order to have access to the site's most basic features. The minimum deposit is generally associated with a Standard account, however, for a larger deposit, you can receive access to the features and tools offered on higher-level VIP accounts.
The amounts vary depending on deposit method and funding type.
Being regulated by CySEC makes 24 one of the most highly regulated brokers in the market today. With their versatile funding options, making deposits is fast and easy. However, be sure to follow, 24option's minimum deposit and maximum deposit rates.
Minimum deposit amount with 24option is $100. Minimum deposit with wire transfer is $1000. There is also maximum daily amount one can deposit, it is $10,000, or $40,000 monthly. Deposits can be made in
Obviously, 24option minimum deposit requirement is not that much different from other brokers. it is meanwhile an industry standard that many see as the sweetspot for trader. Naturally there are always brokers that require very low minimum deposit, such as $10, however, one must think of the user experience that one can get that way.
With 24option traders will have enough money to conduct any kind of allocation right from the start. If the classic option (high/low) minimum trade is $24, this means that trader can place at minimum 10 trades with that money. That is calculated without a bonus, with presumption that the trader will loose them all, which I believe that is almost impossible, since even if there was no analysis and the trader just randomly chooses High or Low, some trades would end up in the money.
For traders that choose short term trades, where minimum trade is $24, the trading dynamics will get even more interesting as the fast paced trading will offer more than 40 trades in worst case scenario!
Withdrawing Money from 24option Trading Account
Withdrawals are one of the most important parts of the trading experience. The idea is that traders that earn money trading also have an opportunity to quickly withdraw their profits or deposited money. This can take some time depending on the method so we advise patience.
As mentioned, withdrawal with 24option can take some time, however, this is not due to broker's incompetence, but due the fact that global banking and payment systems are still slow compared to what would one expect in 21st century.
As expected, customers need to log in, enter their account panel and choose banking. There they should select withdrawal option. Any amount over the initial deposit (meaning profit) is withdrawn via the bank wire due to global AML practices.
First withdrawal with 24option is always free. Minimum withdrawal amount is $50 (or equivalents in other currencies, see 24option website) and it is a bit high in our opinion.
Fees for 24option withdrawal after the first one are
credit cards: 3.5%
Skrill: 2%
Neteller: 3.5%
Bank Wire: $30, €25, 20GBP or 3000Yen
24option Trading Platform
Before one decides to invest in any other investment option, it is always a good idea to consider learning everything possible. One of the most important things to learn is the possible outcome from the market. With a special emphasis on the 24option trading platform, one of the simplest things that many take for granted is the ultimate reality that being a fixed return option, there can only ever be two options in this market. Basically what happens on the 24option trading platform is that the buyer often has the chance to purchase an asset at a predetermined price within a given timeframe.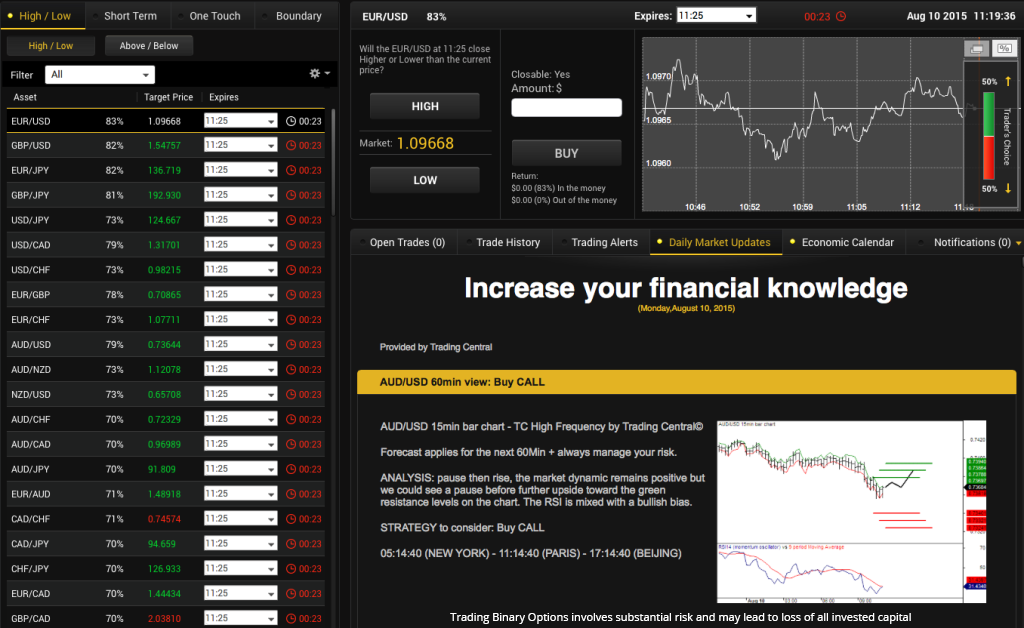 Since everyone is in the market to trade binary options, it is important to look into ways of using the 24option trading platform to do the same. The simplest investment strategy is often to trade on the liquid strategies or the most active strategies. To determine such investment options in the market, pay attention to those indices that are traded in large volumes at the end of every other day, or the indices from companies that are overly active in a productive manner. By the end of the day, it is easy to realize that on the 24option trading platform these indices are from companies that exhibit capital growth.
Monitoring the market is key to investment success, especially on the 24option trading platform. It is recommended to look out for the moment when a market rally has risen. In the event your investment is not on the table at this particular time, it is possible to bide your time and follow up on that investment later on because by the end of the day, all the prices on the 24option trading platform often settle.
There is something that most people never really take into consideration especially with the 24option trading platform. There is a significant difference between investing in quantity options and quality options. Always pay more attention to the quality of the securities that you are looking to invest in other than the number of securities hoping to purchase. This is why 24option switched from binary options to forex trading.
Trading binary options involves substantial risk and may lead to loss of all invested capital.